Well, here we go. With just three games remaining in an awfully disappointing 2018-19 season, the way out doesn't get any easier. The Eagles will face the Los Angeles Rams on Sunday Night Football with the odds severely stacked against them. To be exact, the odds are a whopping 9.5 points against them. The Eagles will attempt to bounce back after a completely disheartening loss in Dallas just a week ago. While many (many meaning anyone with functioning eyeballs) argue that the Eagles were robbed by the officials in that game, a loss is a loss. In another absolutely splendiddevelopment, as if this team hadn't faced enough adversity and injuries already, on Wednesday we learned that Carson Wentz will not play, and we are now finding out he has a fracture in his back.
Here's all of the latest on Wentz and his injury:
---
However, there's still a football game to be played. While the Rams have already clinched the NFC West, they will very much so still be competing as they are currently in a heated race with the Saints to secure the #1 seed in the NFC and ensure a bye/home-field advantage throughout the playoffs. They also are coming off of their worst performance this season after a 13-6 loss in Chicago. As for the Eagles, we're kind of hoping for a Wild-Card seeding miracle that would take forever to explain. To make it simple, the Eagles could obviously really use the win. Let's take a look at the matchup.
---
In The Air:
Eagles: The Eagles come into this game with the 12th ranked passing attack in the NFL, with an average of 254.8 yards per game earned through the air.Obviously. the vast majority of the games were played with Carson Wentz under center. However, let's look at the two games Foles did start at the beginning of the season as Wentz waited to be cleared for contact. In the first game against Atlanta, Foles was 19-34 for 117 yards, 0 TD's and 1 INT. In the second game at Tampa Bay, Foles was 35-48 for 334 yards and 1 TD. The Eagles went 1-1 with Foles under center. Ironically, Foles will step in against the Rams once again in place of Carson Wentz for the second straight season. Last season, Wentz had thrown 4 TD's (including one on a torn ACL/MCL,) after which Foles came in and went 6-10 for 42 yards. This time he'll be the starter, and he'll be facing off against a pretty solid Rams passing defense. The Rams pass defense is ranked at 14th in the NFL, giving up an average of 237.5 yards per game.
Rams: If you haven't noticed yet this season, the Rams have a KILLER offense. Jared Goff is having an incredible season and has led the Rams to having the 5th ranked passing offense, with an average of 289.8 yards per game gained through the air.Fortunately for them, unfortunately for us,the Eagles have the 30th ranked passing defense. That is second from last in the entire NFL. The Eagles give up an average of 277.4 yards per game through the air.After giving up 455 yards and 3 TD's to Dak Prescott, the Rams will look to pick apart this depleted Eagles secondary.
---
On The Ground:
Eagles: After two weeks in which we thought the Eagles finally have committed to an established run game, Sunday's game against the Cowboys proved us wrong. The Eagles ran the ball just 10 times for a whopping37 yards. On the year, the Eagles have the 28th ranked rushing attack with an average of 97.9 yards per game gained on the ground. They also took a big hit after suffering ANOTHER injury, this time to Corey Clement who has now been placed on IR. However, their matchup will be slightly easier than last week's 3rd ranked Cowboys run defense. This week they face off against the Rams' 23rd ranked rushing defense, who give up an average of 124.2 yards per game on the ground.
Rams: Here's another breaking newsflash for you: Todd Gurley is very good at football. In fact, he's so good that he's led the Rams to having the 5th ranked rushing attack in all of football. The Rams average 132.7 yards per game on the ground.They will face off against the best unit the Eagles have (by far) in the Eagles' 10th ranked rush defense, who give up an average of just 106.6 yards on the ground per game.Unfortunately, teams have learned that passing against the Eagles is much easier than running against them. MUCH easier. I'm sure a great coach like Sean McVay will also know this.
---
5 Things To Watch For:
1.) Which Nick Foles will we see? : Will we see Super Bowl MVP Nick Foles? Or will we see the sometimes painful to watch slow, immobile Nick Foles? We usually know what we get with Foles. A really strong arm, with good accuracy and smart decision making. However, we also know we are in store to see a lot of broken plays due to his lack of mobility in the pocket. Let's hope we see the Foles we all came to love last January and February.
2.) Do the Eagles have a run game or not? : The truth is, nobody knows. Nobody knows because the Eagles don't allow us enough time to figure it out. It's a constantly moving seesaw between Yes and No. After 2 effective run-game performances against New York and Washington, the run game went back into the can against Dallas. Which one will we see this week?
3.) How do Rams respond to their worst performance of the season? :  The Rams suffered an embarrassing 15-6 defeat in Chicago last Sunday night. They were completely dominated and neutralized by the "monsters of the mid-way" of the Bears defense. Todd Gurley was held to just 28 yards, and Jared Goff had the worst game of his career in which he was 20/44 for 180 yards, 0 TD's and 4 INT's. The question is, will we see a hungry, motivated Rams team coming out with a craving for vengeance? Or will we see a Rams team in turmoil? I wouldn't bet on the latter.
4.) Is Mike Groh coaching for his job? : With the Eagles offense struggling mightily this season, OC Mike Groh continues to be on the hot seat. While he may have extinguished the flames slightly after two decent outings against WAS and NYG, after the Dallas debacle the seat is back on fire. With just three games left in the season, and his job security hanging on by a thread, will he develop a more bold/strategic gameplan? One would think, but if we know Mike Groh, probably not.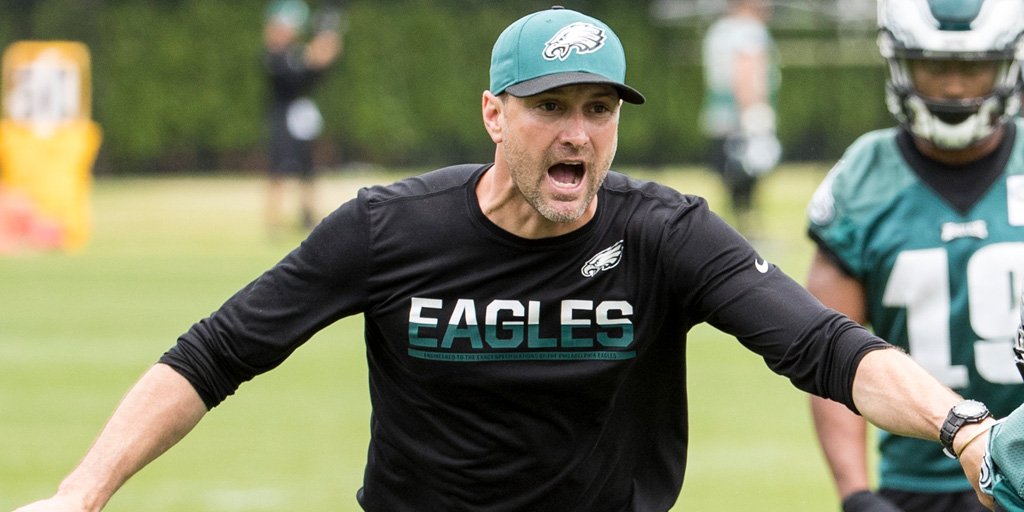 5.) How does Zach Ertz's role change with Foles at QB? :Zach Ertz is going to be effective no matter who is under center. However, he and Wentz had an undeniable connection. Ertz remains on pace to break numerous records for the tight-end position, but will the transition to Foles change that? Ertz had good games with Foles in the playoff run last year, but I'd quite honestly be shocked if Foles targets Ertz to the same rate as Wentz has this season.
---
Prediction: I'm often one of the most optimistic Eagles fans you'll ever meet, sometimes to a fault. However, I just can't convince myself in any way that the Eagles are going to win this one. With no Wentz, no Clement, nearly the entire team banged up in some fashion, and all hope seemingly lost, I just can't do it this time. I think the Eagles will have a few good scoring drives against a decent defense, but nothing crazy. Rams 28, Eagles 17.
---
Featured Image: Collage from Left: Bill Streicher / USA Today, and Right: Rams Instagram / @Rams