I still, and always will, believe in Carson Wentz. Recently, there have been an incredible amount of "Eagles fans" coming out and bashing Wentz for his "bad" performance this year. Many are even calling for Nick Foles to become the starting quarterback. To think of how quickly many "fans" have given up on our franchise QB and the future of our entire organization is pathetic, and quite frankly embarrassing.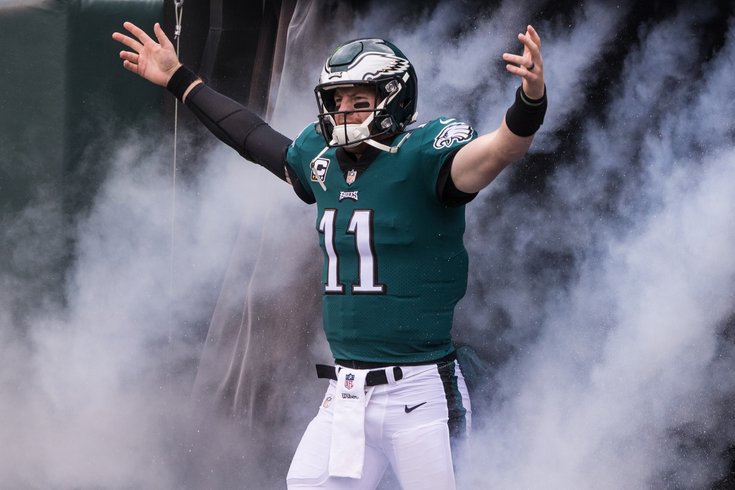 It's been a long season, no doubt about it. However, try to think back Weeks 1 and 2 of this season. Nick Foles, our beloved Super Bowl MVP, remained the starter as Carson Wentz waited to be medically cleared for contact. The Eagles opened up the NFL season with a win against the Atlanta Falcons. Foles was 19-34 in this game, throwing for 117 yards, 0 TD's and 1 INT. Thankfully, some excellent defensive play and an effective run game were able to secure an Eagles win. In Week 2 of this season, Foles and the Eagles faced off against Tampa Bay. In this game, Foles was 35-48, threw for 334 yards, and 1 TD in a 27-21 loss. Foles played fine in this game. However, at the time Eagles fans were YEARNING for our franchise QB to return.
In Week 3 he would return. Since then, he's had far from the "bad" season many in the sports world would want you to you believe. So far this season, Wentz has 21 TD's, 7 INT's, 279.6 yards per game, and has the 7th-best Passer Rating in the NFL at 102.2.
In fact, Wentz's numbers are not far off from his MVP-caliber season of 2017, some numbers are even better. Take a look;
Wentz in 2017: (13 Games) 
60.2% Completion Percentage
253.5 yards per game
33 TD's
7 INT's
Passer Rating –  101.9
---
Wentz in 2018: (11 Games)
70% Completion Percentage
279.5 yards per game
21 TD's
7 INT's
Passer Rating 102.2
I will admit the eye-test shows that Wentz has not been the same as last year. I think there has been a clear drop-off in his mobility, and accuracy compared to last year. There have been instances this season that Wentz has missed a pretty easy pass that he would have made in his sleep last year. No matter how much Wentz, Doug Pederson, and other Eagles officials deny it, I don't see any way imaginable that Wentz's left knee is 100% recovered. It has been just 12 months since Wentz's complete ACL/LCL tear and surgery. Typically, this recovery process takes anywhere from 12-19 months. Wentz returned in about 9 months. I understand Wentz was working with some of the greatest doctors, trainers, and physical therapists in the world, but human anatomy is pretty definitive with recovery times. I believe Wentz is still having much more trouble than he will admit with his knee. There is no way that Wentz feels just as comfortable planting that left leg into the ground to launch a throw, or stomp-cut off of that leg to make a move the same way he did last year. I think many Eagles fans kind of just swept logic under the rug and expected him be 100% when coming back, myself included.
However, despite playing through pain/discomfort, Wentz has managed to deliver us a very solid year of quarterback play.
Has he been perfect? 
No.
Has he made the same amount of "WOW" plays as last year?
No.
Is there any other young quarterback I would trade him for in this league?
ABSOLUTELY NOT.
Wentz has been very consistent and put us in position to win many games this season. He's had some bad games, including the worst game of his career against New Orleans. But, the good significantly outweighs the bad. Unfortunate circumstances such as questionable play-calling from coaches, defensive blunders, and unlucky bounces should not be blamed on him. I believe in Carson Wentz 100% going forward. While this season may not have gone the way he may have wanted it to go, we are blessed to be able to say he will be our quarterback for many years to come. We know Carson Wentz, this offseason he is going to work like a monster on improving, and his knee will continue to recover.
Next season Wentz will return healthy, hungry, and angry. Quite frankly, if I were a fan of any other team, I would be terrified of what this man is going to do to this entire league for the next decade.
---
Featured Image: Steven Ruiz / USA Today